NBA Conference Semifinals: Huddle Reports Impressive Statistics
News
May 12, 2023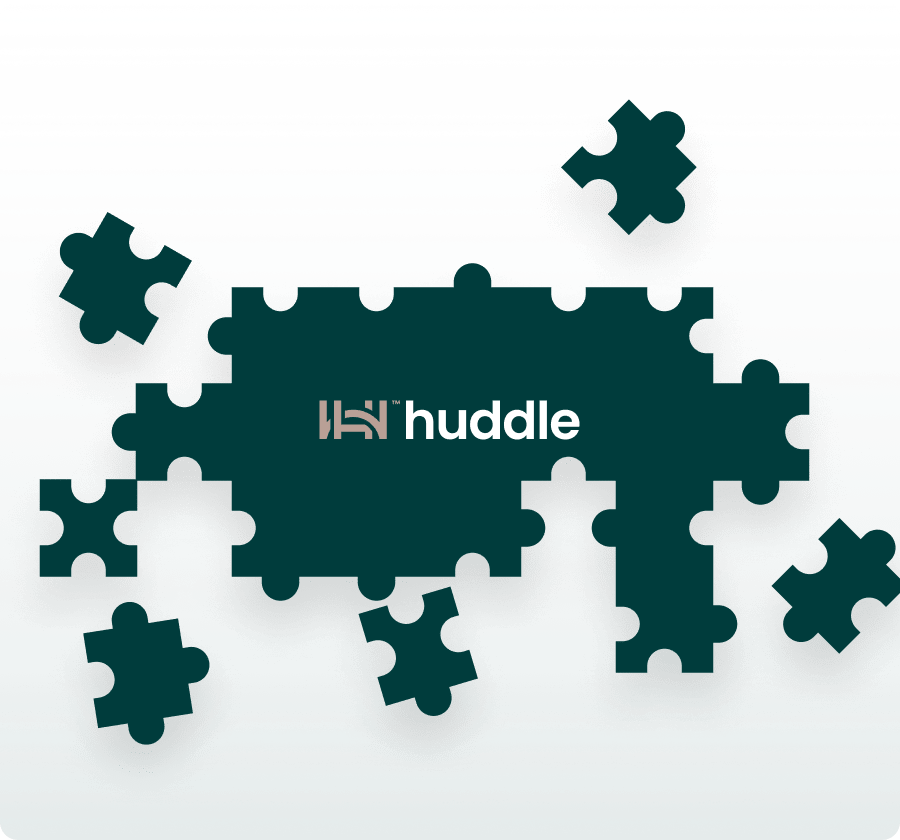 NBA Conference Semifinals: Huddle Reports Impressive Statistics
We're excited to share valuable insights on Huddle's Conference Semifinals performance, market making, and suspension reactivation. We outperformed competitors with superior reactivation rates, proving our market strength, and once again validated that we are market leaders when it comes to pricing.
"Huddle noted significant increases in volume and hold percentage (client hold percentages increased by 3.65%) in 2023 vs. 2022 for the NBA Conference Semifinals. Huddle was responsible for overseeing a 5.2% increase in handle from the previous years NBA Conference Semifinals. This achievement can be attributed in part to our partnership with Genius Sports. Along with best-in-class data and video feeds, the Trading Team at Huddle utilized our proprietary expert models to maximize uptime for client operators. Timely execution of critical tasks is paramount in an environment where every millisecond counts and we provide the right line at the right time, every time." Paul Moen, Sports Risk Supervisor
Market Making: Huddle vs Market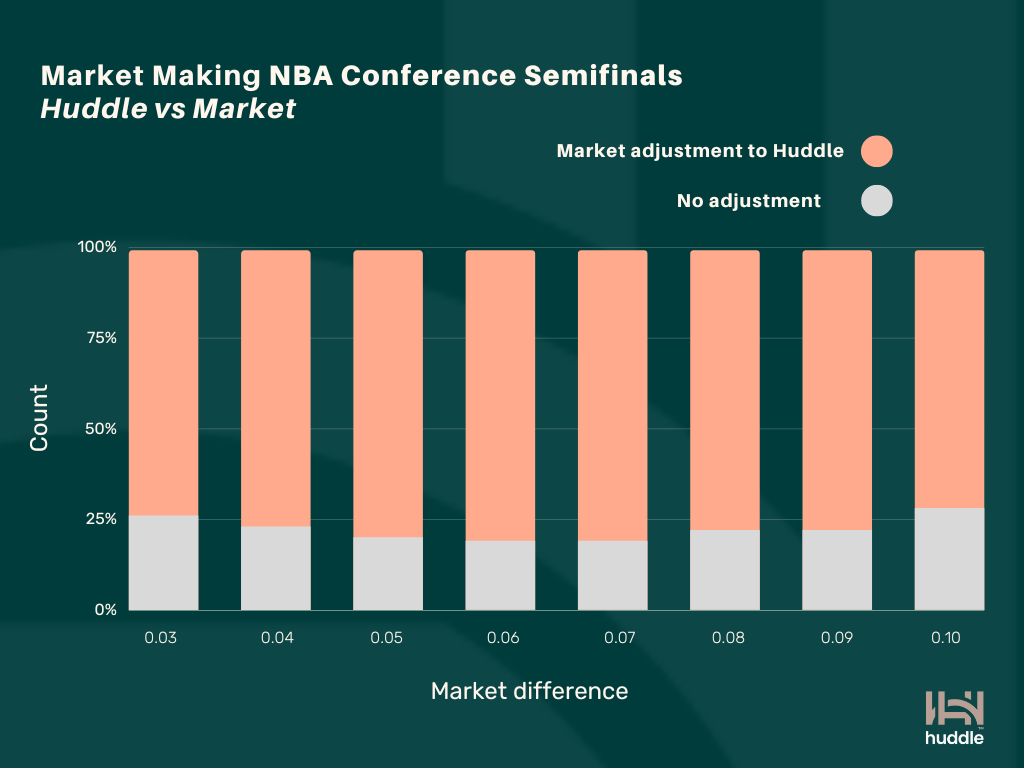 Throughout these games, the market adjusted to fall in line with the Huddle price on over 74% of occasions where Huddle Pricing deviated from the market by more than 3%
This shows that Huddle is exceptional at influencing the market and confirms its strong position in pricing. The data proves that Huddle sets the standard for pricing, and other operators in the market follow its example. Huddle's market knowledge and dominance are the main reasons why it has become a leader in the market.
Suspension Reactivation: Huddle vs Market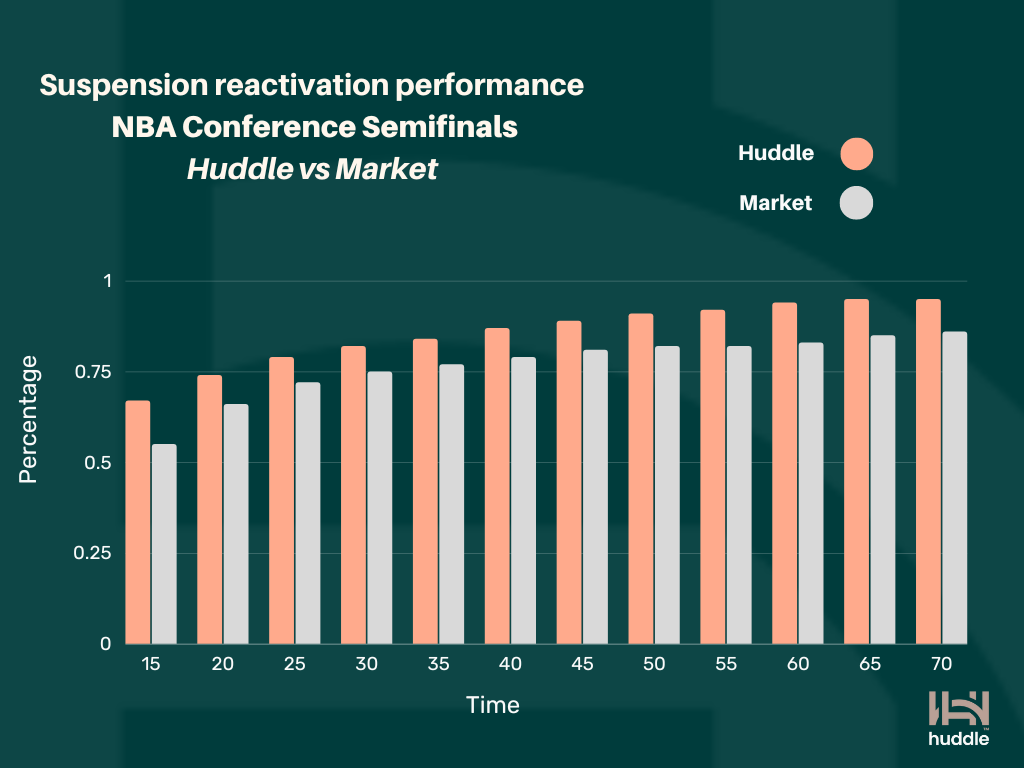 For 66% of the suspensions Huddle made, Huddle reopened its lines for betting within 15 seconds, compared to the market average of only 54%. This surpasses the average rate in the market. What's more, our reactivation rates have consistently outperformed our competitors' rates for extended periods.
When it comes to major sports and competitions in the United States, Huddle remains the top choice, offering faster reactivation times compared to the market average. These fantastic results show that we are experts in our field, using advanced technology and always striving to meet our customers' needs.
By The Numbers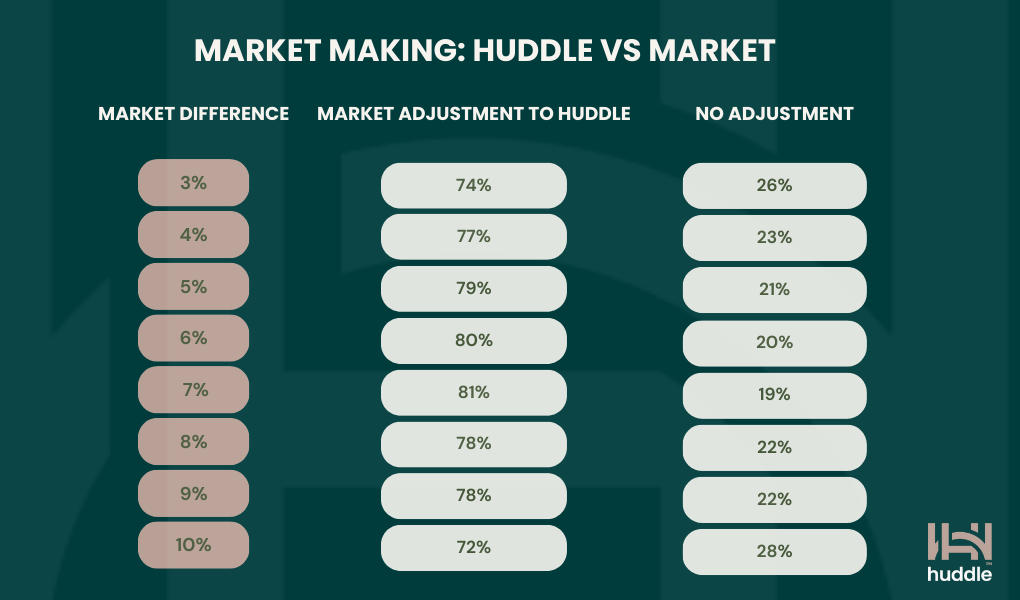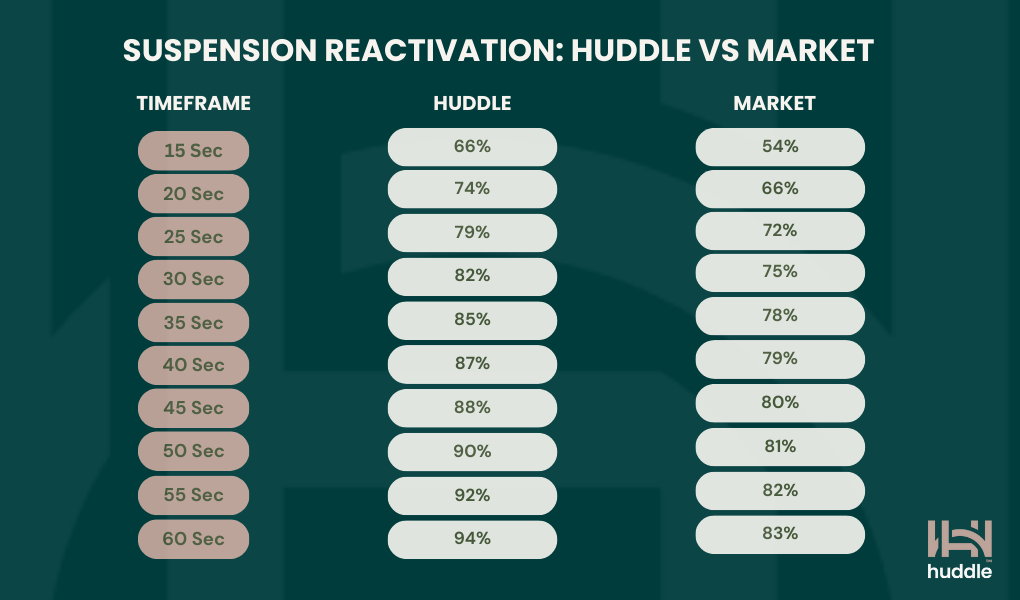 Interested in learning more? Drop us a line at hello@huddle.tech