NBA Playoffs – Huddle Announces Impressive Performance During Round 1
News
May 5, 2023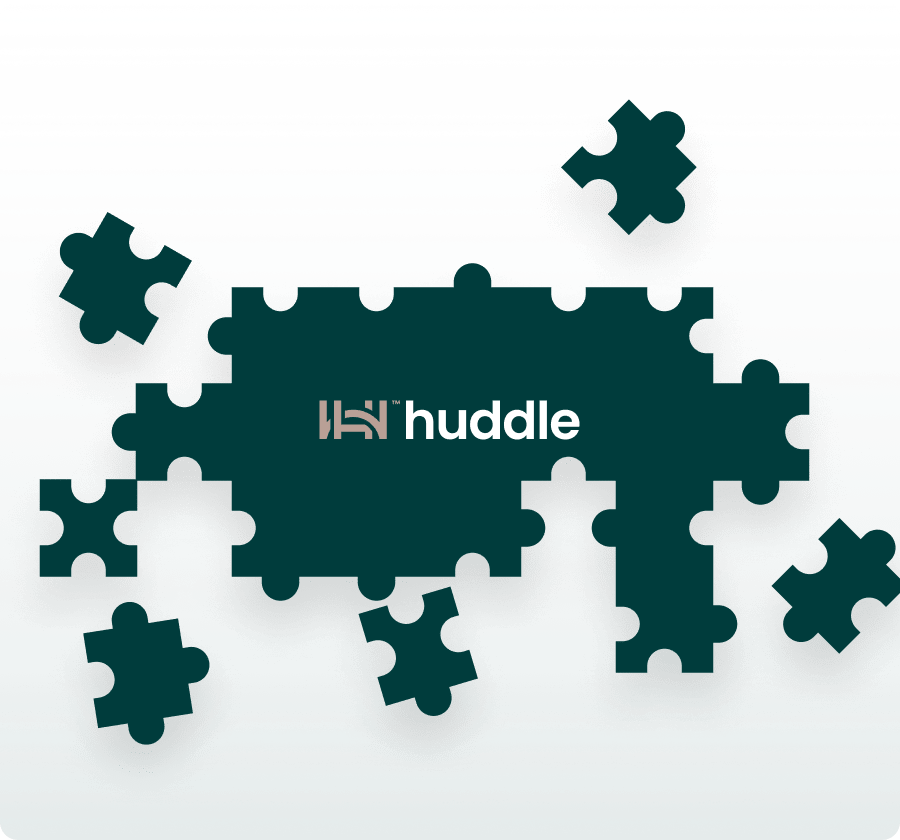 NBA Playoffs – Huddle Announces Impressive Performance During Round 1
We're excited to share some valuable insights on Huddle's performance during Round 1 of the NBA playoffs, as well as our market making prowess and suspension reactivation. During this round, we've managed to outperform our competitors with superior reactivation rates, which is a testament to our strong performance in the market.
"Huddle understands the importance of maximising uptime for clients and has implemented appropriate internal controls to prioritise this objective. As a result, Huddle noted an increase in volume of 10% in 2023 for NBA Playoffs Round 1. In addition, client hold percentages increased apx. 3.3% for the full NBA season." Paul Moen, Sports Risk Supervisor
Market Making: Huddle vs Market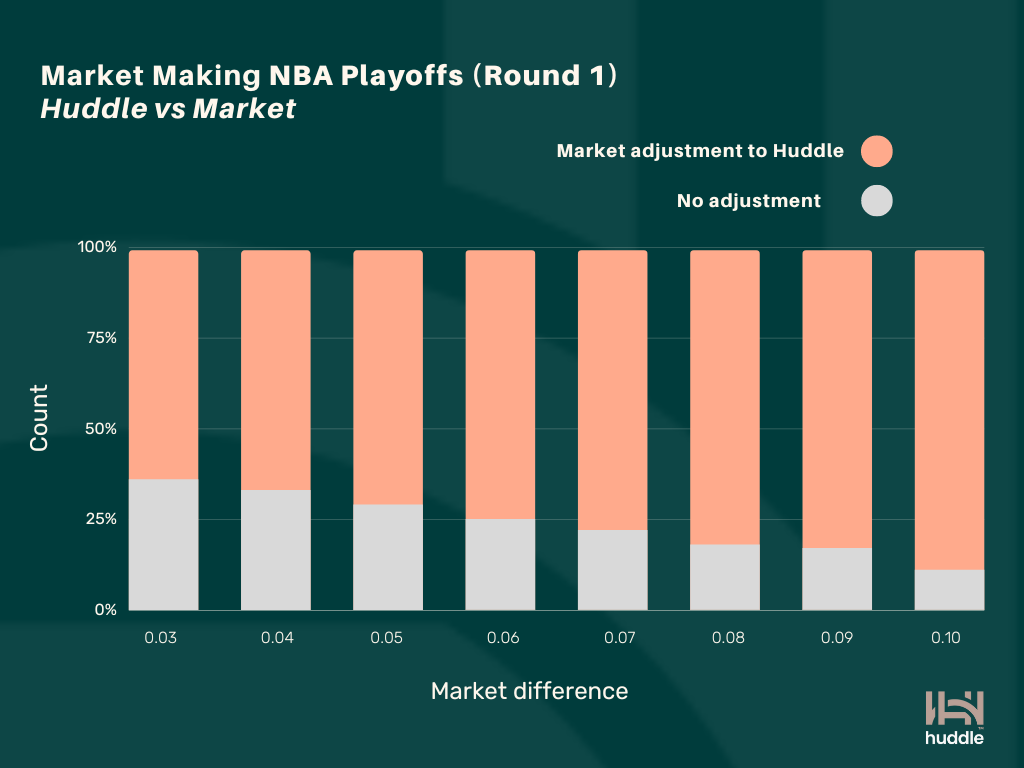 The impressive statistics from Round 1 of the NBA playoffs showcase Huddle's exceptional market abilities. These numbers serve as proof of Huddle's proficiency in influencing the market and setting the bar for others to follow.
Throughout these games, Huddle's pricing varied by more than 3% compared to the market, and in 63% of such situations, the market ultimately adjusted to match Huddle's pricing. This result underscores Huddle's proficiency in shaping the market and reaffirms its prominent position in pricing. The data validates Huddle's role as the pricing benchmark, with other market players following its lead. Huddle's market expertise and dominance are the key factors behind its emergence as a leader in the market.
Suspension Reactivation: Huddle vs Market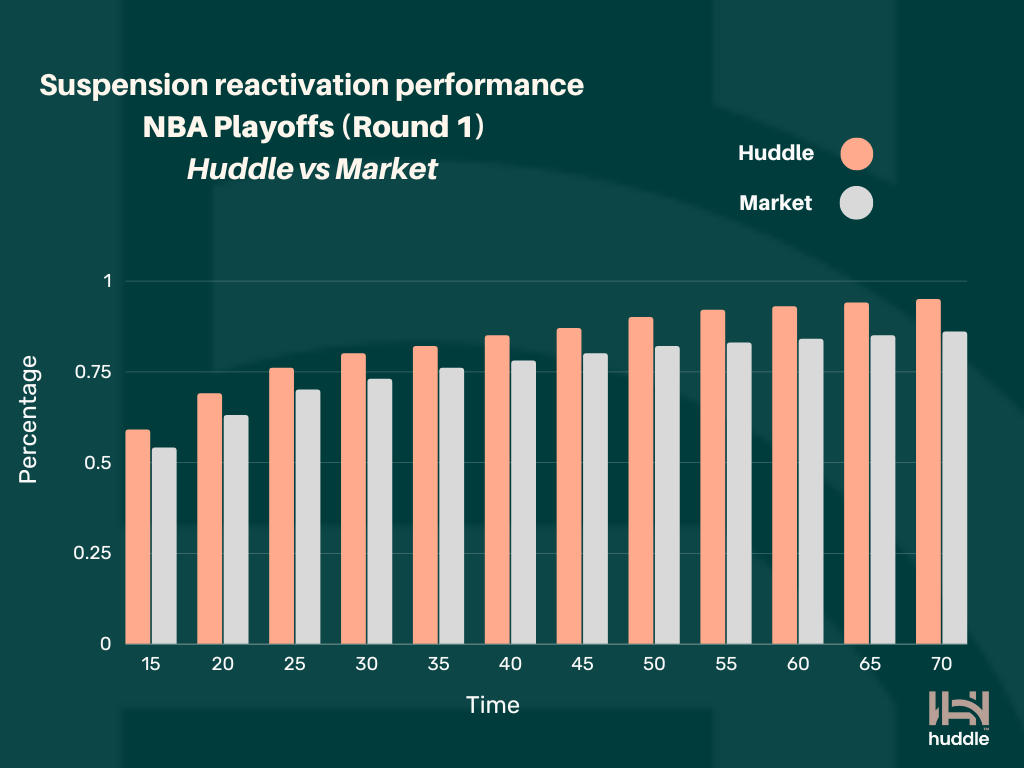 Our data shows that Huddle has achieved an impressive reactivation rate of 59% within 15 seconds, which surpasses the average rate in the market. Moreover, our reactivation rates have consistently exceeded those of our competitors over prolonged periods of time.
When it comes to all major sports and competitions in the United States, Huddle maintains its position as the industry leader, with faster reactivation times compared to the market average. These remarkable outcomes demonstrate our expertise, cutting-edge technology, and unwavering dedication to satisfying our customers' requirements.
By The Numbers: Huddle vs Market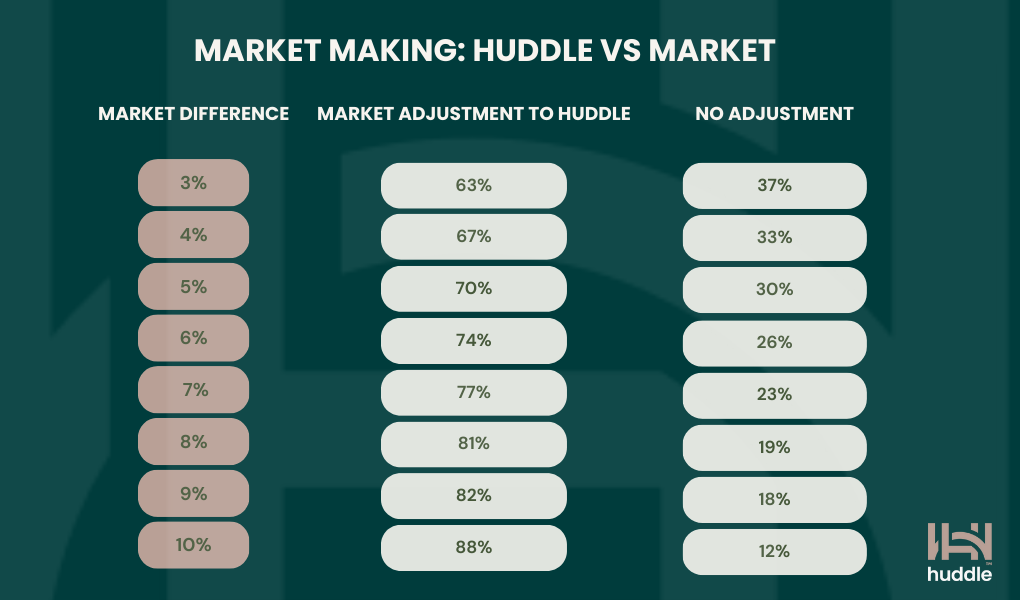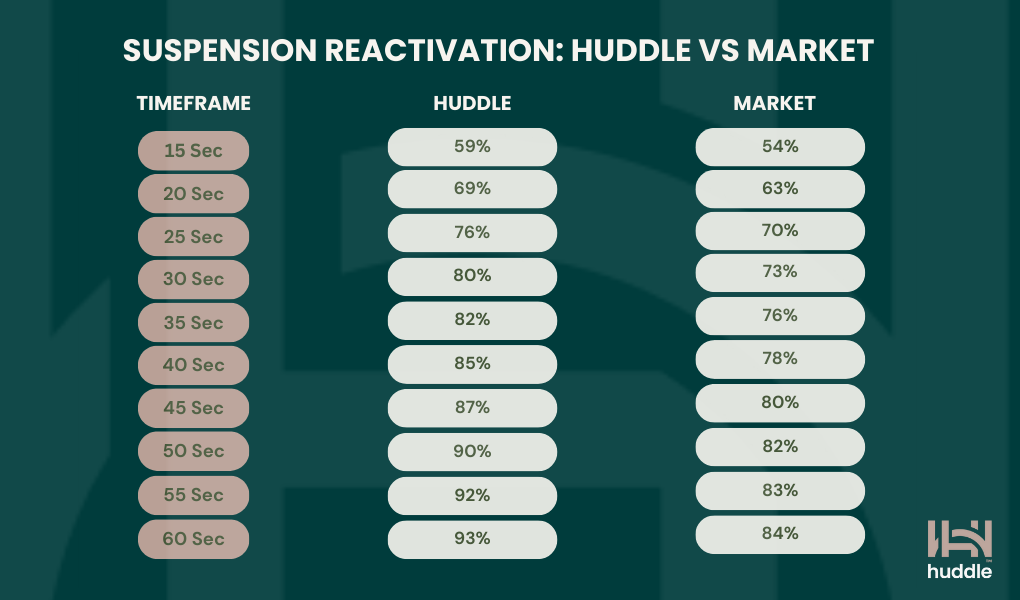 Interested in learning more? Drop us a line at hello@huddle.tech