College Basketball Statistics and Huddle Performance 2023
News
April 14, 2023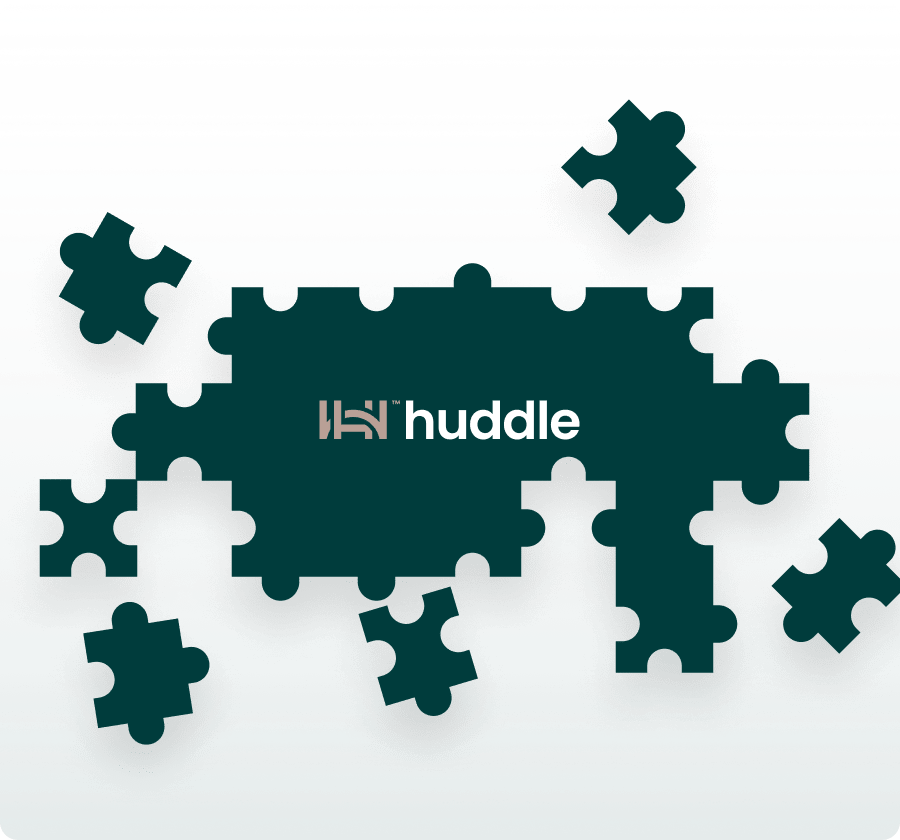 College Basketball Statistics and Huddle Performance 2023
March Madness is over, and it's time to reveal the slam-dunk numbers that Huddle brought to the court this season! We're thrilled to share some exciting news with you.
Huddle Performance
Huddle has experienced a significant year-over-year volume increase of approximately 100% throughout the entire college basketball season.
In addition to this, we also saw a 2.5% increase in our margin/hold and an outstanding 66% increase in wins this year compared to last year.
"Huddle uses the right data to answer the right questions, leaning on human judgement and automation control when appropriate, to increase volumes and margins for clients. College basketball, with its 350 teams and messy data, clearly demonstrated this value." Justin Zovas, VP of Trading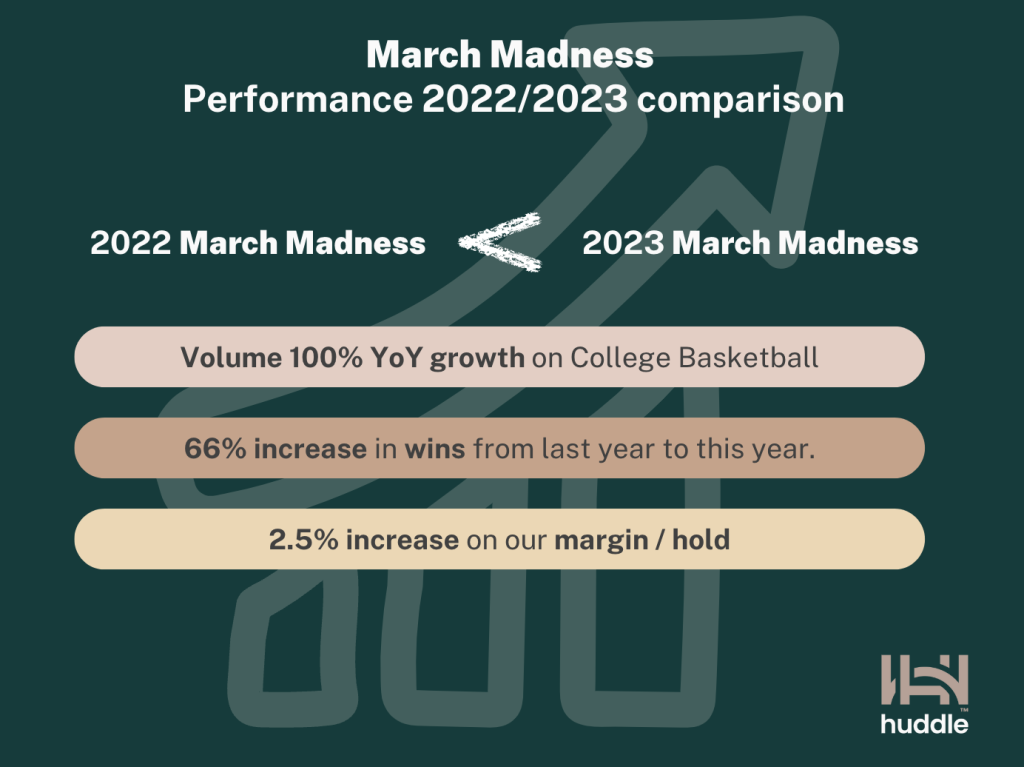 Market Making: Huddle vs Market
The recently concluded March Madness provided remarkable statistics that showcase the unparalleled capabilities of Huddle in the market. The figures are a testament to Huddle's prowess in shaping the market and setting the pace for others to follow.
During the tournament, Huddle's pricing differed from the market by over 3% in several instances, and in 60% of these cases, the market adjusted to align with Huddle's price. This outcome highlights Huddle's market-making ability and underlines its leading position in pricing.
The data proves that Huddle has set the benchmark in pricing, and the rest of the market is following its lead. Huddle's expertise and dominance in the market are the reasons why it has emerged as a market leader.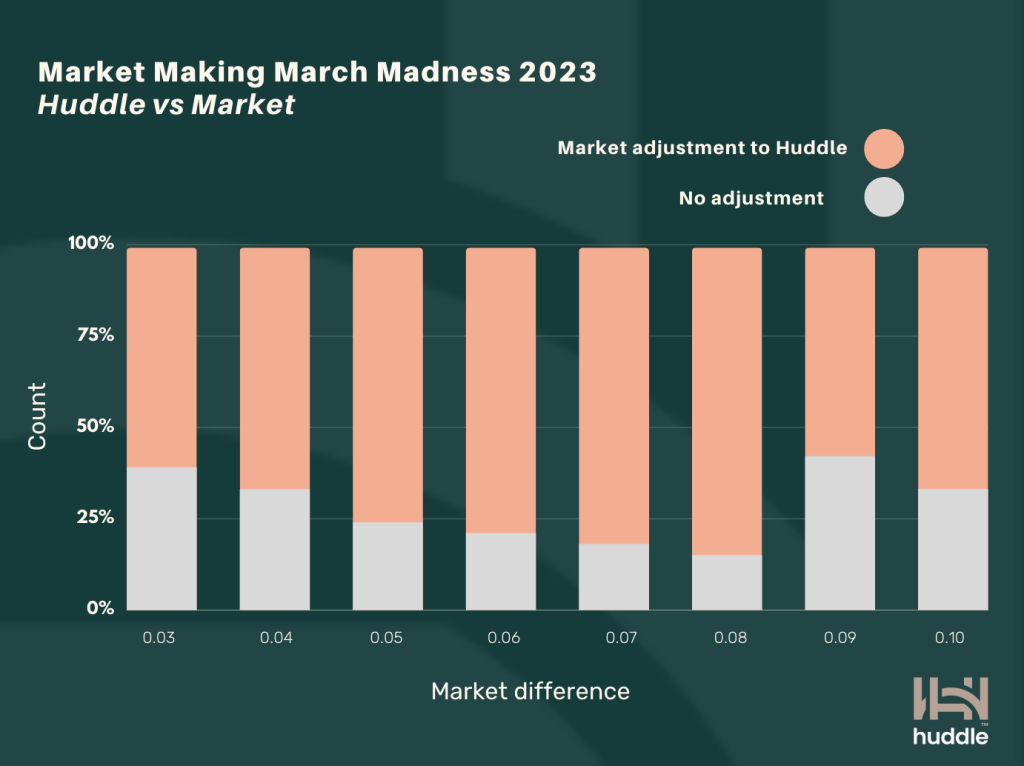 Suspension Reactivation Performance (March Madness Finals)
Our data shows that Huddle achieved an outstanding 42% reactivation rate within just 5 seconds, which is significantly higher than the market average of 16%. Moreover, over longer periods, we consistently outperform our competitors with even higher reactivation rates.
When it comes to major US sports and competitions, Huddle continues to lead the way with faster reactivation times than the market average. These impressive statistics are a testament to our expertise, cutting-edge technology, and unwavering dedication to customer satisfaction.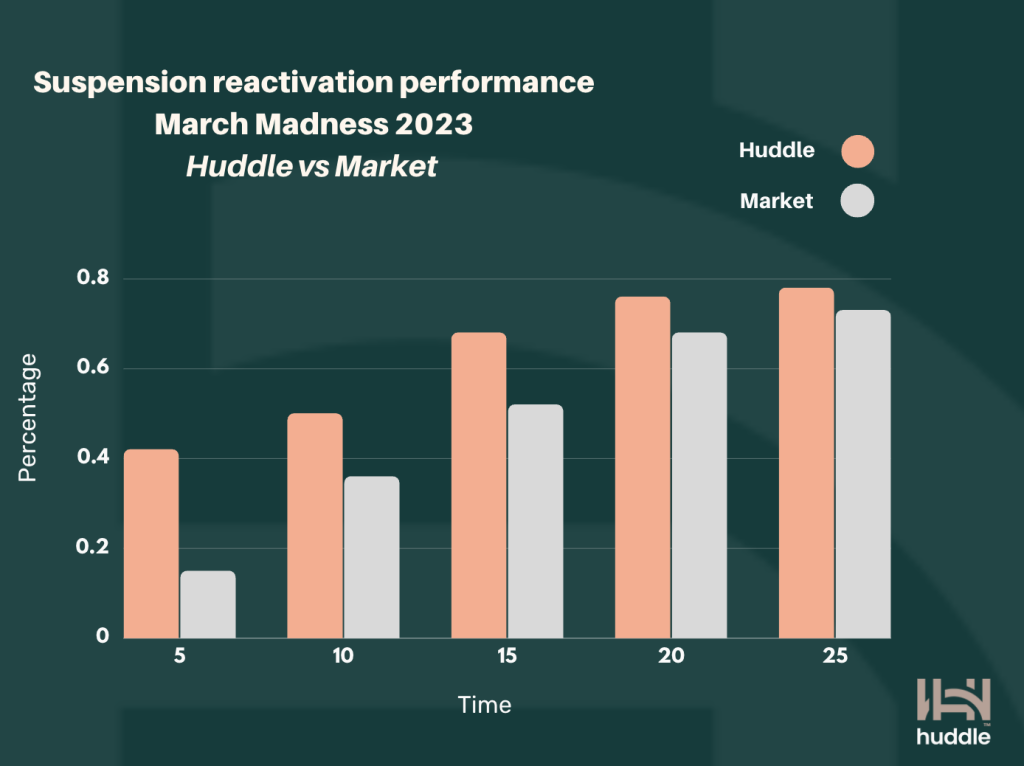 "Huddle's March Madness product showcased the power of layering a trading team on top of reliable software, accurate data, and good models." Justin Zovas, VP of Trading